I am a WINNER! of Let My Spirit Live contest at Ruthi's!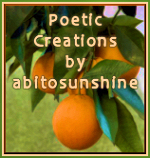 Today I received my gift that I won at Ruthi's
'Let My Spirit Live'
contest that she was having at Christmas time. The winners were selected the day after Christmas in light of the contest to keep the spirit alive, and I was one of those lucky recipients. I am genuinely thrilled to be receiving this gift from Ruthi with her own poetry and images used to create an absolute gorgeous piece of art. You can find a photo of the gift I won
here
.
(My digital camera is broken and I have nothing else to take a nice picture right now.)
Ruthi has a wonderful shop with her Poetic Creations and all of her products look amazingly fun and so inspirational. After receiving my gift today, I am very impressed with the quality. Check out
Ruthi's Poetic Creations Shop
. This particular piece that I received today is going in my kitchen! I am very proud of it and will be so proud to say,
this is written by my friend Ruthi Cox.
When the box arrived, I carefully opened it and was stunned at the high grade of material used. The mini poster is really nicely sized, making it a not so mini at all. The picture is perfectly clear and bright with great tones of vibrant red and rich green. The graphic used is a gem, with a holiday feel yes, and yet made to easily enjoy all year long. The words are brilliant, clear and visible. It is a treasure and even more wonderful than I could have ever expected.
It has given me a very warm feeling on this very cold January day in Ohio with the snow covering us real good. I felt a bit sorry for our mail carrier driving up our hill to bring me my package. I was kind enough not to meet him at the door since I am probably still contagious with my cold, or flu or whatever it is that is making me feel like a creep. Husband was quick on the draw with shovel in hand, ahh not to attack the postman... he was clearing a path from the snow.
The little gnome has found a home with us Ruthi! Hubby and I are both impressed and very happy to receive your deliverance of spirit to our door. A gnome, yes a holiday gnome, but not one to put away now and hide, but one to be out in the open, and about to remind us every day to let our spirit live and thrive!
Thank you so much Ruthi!