The Spellbound Bride by Theresa Meyers


Twice a widow and now suspected of witchcraft, Sorcha MacIver must find a man who can overcome the curse that haunts her, or burn at the stake at the hands of her own clan. Mercenary Ian Hunter thought marrying her would be easy money and a way to escape Scotland, and his treacherous brother who stole his first bride. But neither counted on Sorcha being a pawn in a deadly play for the throne of Scotland by King James cousin, the Earl of Bothwell, where witch hunts are only the beginning, and...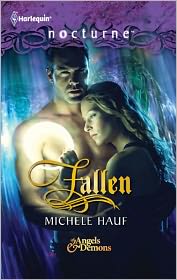 Fallen (Of Angels and Demons Series) by Michele Hauf
Wanting to be a part of mankind, the angel fell—losing his halo, the prize that held his earthbound soul. Now Cooper must retrieve it. But wherever the Fallen walk, a Sinistari demon intent on slaying one is not far behind. Cooper knows he must be wary of this demon. But his first encounter with her leaves him curiously hungering for more….

To reclaim her own soul, Pyxion must kill an angel. Not just any angel, but one who's fallen to earth and taken on an irresistible, seductive human form. She never expected that she would feel an attraction for the man she hunted—or that she might need his help. When faced with a powerful mutual threat, she and Cooper form an alliance. But as the danger heightens, so does the passion…and if they give in, all could be lost.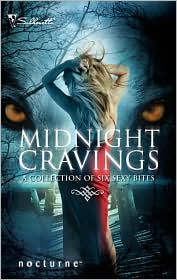 Midnight Cravings: Racing the Moon\Mate of the Wolf\Captured\Dreamcatcher\Mahina's Storm Under the cover of night exists the dark and sensuous world of Midnight Cravings—a world conjured up in six seductive tales of paranormal passion. Follow some of the genre's best writers, including Michele Hauf, Karen Whiddon and Lori Devoti, on a mesmerizing journey where the extraordinary comes breathtakingly close with every turn of the page. So, please, come on in. The first bite won't hurt, and it's likely that you will crave another...